Frederic Cook, III, Esq.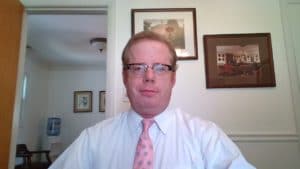 Born and raised in Baltimore, Maryland, Frederic Cook, III attended Loyola Blakefield in Towson, Maryland, and then went to Gettysburg College where he studied history and music. He graduated in 1994 with a BA degree in history. In May 2009, Mr. Cook graduated from Widener Law with a Juris Doctorate degree, and passed the Maryland bar exam that same year.
Shortly thereafter, Mr. Cook was representing clients in Court in many matters including domestic violence disputes, divorce and custody. By mid-2012, Mr. Cook had successfully tried an adversary proceeding in U.S. Bankruptcy Court, winning for his clients a six-figure Federal judgment against individuals who tried to financially exploit a senior citizen by using bankruptcy to avoid liability.
Prior to his law career, Mr. Cook's experience in minor league baseball resolving client dilemmas, creating contract sales documents, and managing people, enabled Mr. Cook to fully realize his potential to become a successful attorney.
Now, Mr. Cook happily represents clients in areas of family law, personal injury, workers compensation, traffic defense, contract law, and lemon law in all Maryland Courts.
Mr. Cook lives in Bel Air, Maryland with his wife and three children.